Why is Your Attic Smiling at You?
I'm reblogging this with permission from Charles Buell. I think both his messages – about energy loss from attics AND that attics are NOT a good storage space – are important!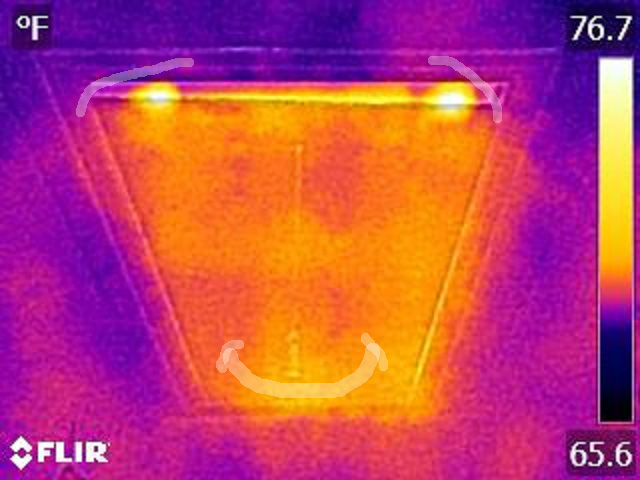 "People love to install pull down stairs as the means of attic access,  Stairs tend to make the attic space more useful as one is not teetering on a step ladder to get things up and down.
Before I go further in this discussion, I want to state that attics are for insulation–not storage or other purposes even though commonly done.  There are numerous problems with using attic space for things other than insulation and this article is NOT about all of those things.
At this time I only want to discuss the pull down stair attic access.
As you can see by this infrared picture, the pull down stairs is staring right at us and gives away the problem.
I am smiling because of how much I am costing you!
The two beady white eyes are all that shows of the zipper seam of the insulating cover between the poor seal of the lid.  This picture is what the lid looks like without the infrared.
The foam zipper cover made to improve energy efficiency is a whopping R-3.8 at a cost of around $116.00 from the Big Orange Toolbox.  Modern standards require that attic hatches be insulated to the same level as the rest of the attic.  In other words R-38 to R-49.  Some sort of thick foam cover would be necessary.  And, of course with that much insulation in the attic any storage floor system gets quite complicated.
This next picture is what the R-3.8 foam cover looks like with the infrared camera and with the stairs pulled down.  As you can see, it represents little resistance to heat flow from the warm attic.
This greatly increases energy consumption due to heat loss in the winter and heat gain in the summer.
Like I started out at the beginning of this conversation, it is best to leave the attic to insulation–and find a better place for the Christmas decorations and stuff your kids will have to deal with when you are gone.
Charles Buell, Real Estate Inspections in Seattle
Any Comments are subject to Casual Uncluttering's review and approval before being posted.  Casual Uncluttering reserves the right in its sole discretion to decline to post any comment and Casual Uncluttering may also decide to remove any comment at any time.